action history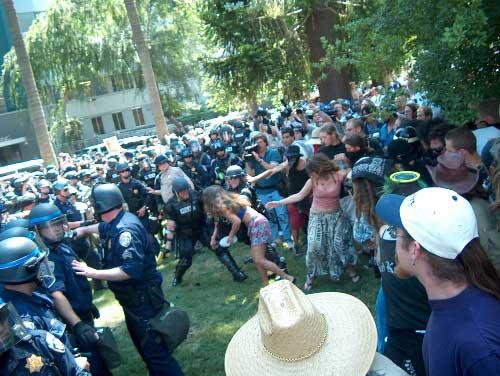 "We all live in a Police State, a Police State, a Police State... a Police State!" (sung to the tune of "yellow submarine")
j23 10 activists from FORT COLLINS confronted biotech bullies in Sacramento, where the USDA failed to dissuade third-world countries from regulating biotech - a major issue in the upcoming Cancun WTO Ministerial. For more information, go to http://www.biotechimc.org
What you need to know about the FTAA
SACRAMENTO - The dateline should stick out in copy had you been paying any attention to indy media sources lo the past six days. Actually, mainstream media sources worldwide have had much to say on the fair city as well, press such as ABC NEWS going so far as to link protests happening there to the collapse of WTO meetings in Egypt. Two Fort Collins activists were arrested: one in a police "snatch", the other while locked down to a building where biotech research is done.
Fort Collins Activist Conference 2003 October 25th
lots of teach-ins.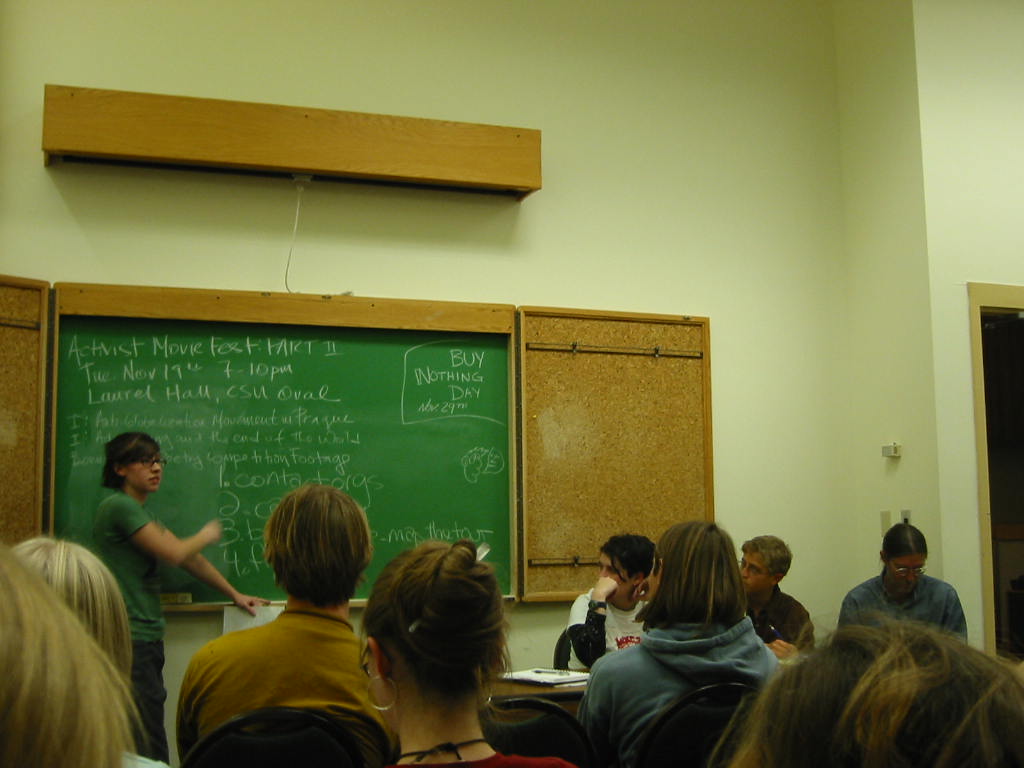 here's a poster: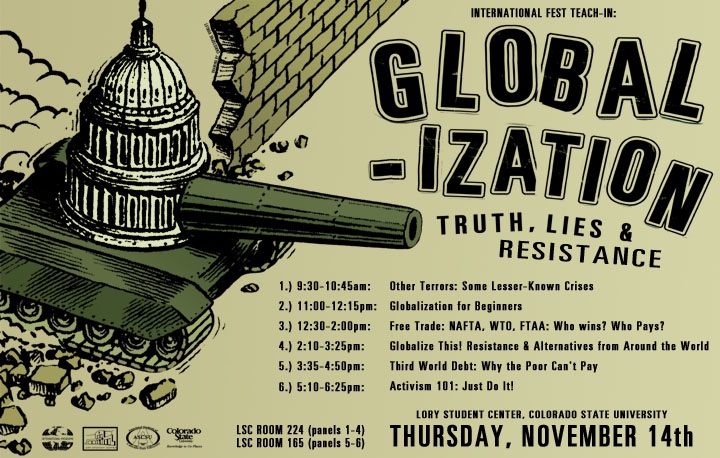 ---
past events
Photos from UnPeaceful Demo in Colorado Springs 15 Feb 2003. More photos and articles at Rocky Mountain Indymedia.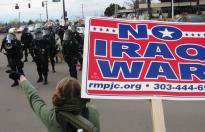 9 Fort Collins folk went to DC April 10-14 to protest IMF/World Bank & Militarization of Latin America. Here is their report.
March 25 Anti-war Demonstrators Hamper "Business as Usual"

"Just watched Channel 9 news at noon. Terrific coverage of a beautiful action. I'm generally opposed to civil disobedience...but you guys are changing my mind. Keep it up folks. You're an inspiration." -Tom, Denver
At 8AM this morning, about 50 activists blocked three of the five lanes of traffic on Prospect Avenue West of College Avenue with a giant tripod. One demonstrator sat at the top the 15 foot tall metal tripod and eight were attached to the legs. Large banners hung on the tripod read "No Blood for Oil", "War on Iraq - Not in my Name", and "Stop Business as Usual". Demonstrators distributed a handbill to stopped cars and passersby, which read:
"We will stop the apathetic flow of American business as usual once the US Administration begins a full scale attack on the people of Iraq, in hopes to engage the citizens of Fort Collins and the greater community to begin to examine the real reasons for, and effects of, imperialistically and pre-emptively attacking a sovereign nation with out national or world, including the UN, support and to empower the citizens of Fort Collins and the greater community to begin act out in support of peaceful and just solutions to world problems/conflicts. Dissent without resistance is consent"
Police closed the other two lanes and rerouted East-West traffic on Prospect around the blockade. Traffic slowed along College Ave. Protesters communicated with police through a police liaison and agreed on an ending time for the event. There were no arrests and there was no police violence.
The blockaders were joined by a march from the Colorado State University Oval. After rallying at the oval, about 150 people marched with signs, banners, a puppet, and drums to the blockade site. Some joined in the street blockade while others remained on the sidewalk. Many local newsmedia covered the event, including The Coloradoan, News7, 9news, The Collegian, The Denver Rocky Mountain News, Loveland Reporter-Herald, KUNC . (The TV news coverage was somewhat different than the web versions.) More photos are being posted on Rocky Mountain Indymedia and SF Indymedia.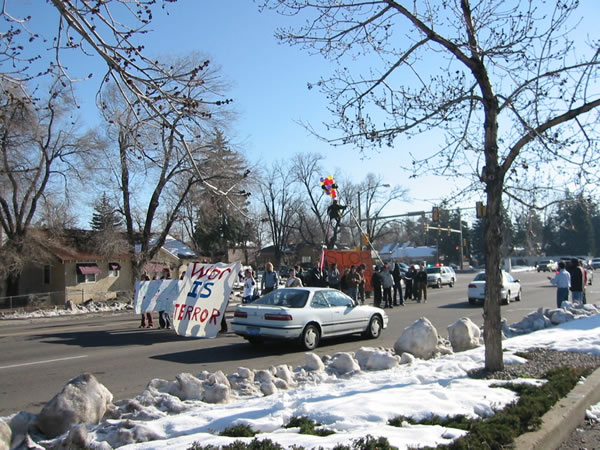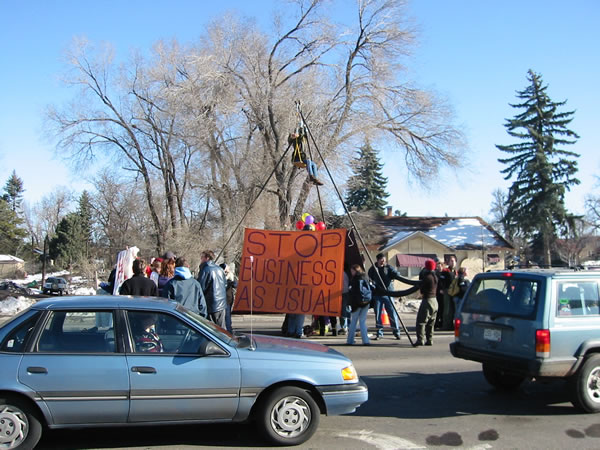 The call to action for the civil disobedience included this non-violence guideline: "In the compassionate and revolutionary spirit of Mahatma Ghandi and Martin Luther King Jr., We pledge to use neither physical nor verbal violence against others, even if we suffer from violence by agitators. In this same vein, we pledge not to damage any property. We act in solidarity with millions rising up against the war throughout our diverse world, who are committed to creating peace, liberty, and justice For All."